A man in the south of Senegal has given himself the ambitious goal of planting five million trees over the next five years.
Adama Diémé came up with this big idea when he moved back to the Casamance area in 2020 after working for a few years in Europe.
The 48-year-old was shocked to see that in villages where there were hundreds of huge trees when he was young, there were now only a few or none left.
"In some villages, there are no trees at all. He told the BBC, "They cut them down, but they don't think about planting them again."
Desertification is often blamed for deforestation in Africa, but in this area, along the wide Casamance River, the trees were probably cut down for construction purposes, like building houses or making charcoal.
Mr. Diémé, who now works as a project manager for a Spanish non-governmental organisation in Casamance and also volunteers as an agricultural trainer, is determined to change all of that.
He didn't have a lot of money, so he started to raise money to make his dream come true. He put up $5,000 (£4,100) of his own money to get things going.
Using the power of women
He has worked hard to connect with people all over the region and reach out to women, who he knew would be up to the challenge of organising the planting of a lot of seedlings.
"It's a disaster if you go to a village and there are no women there," Mr. Diémé said.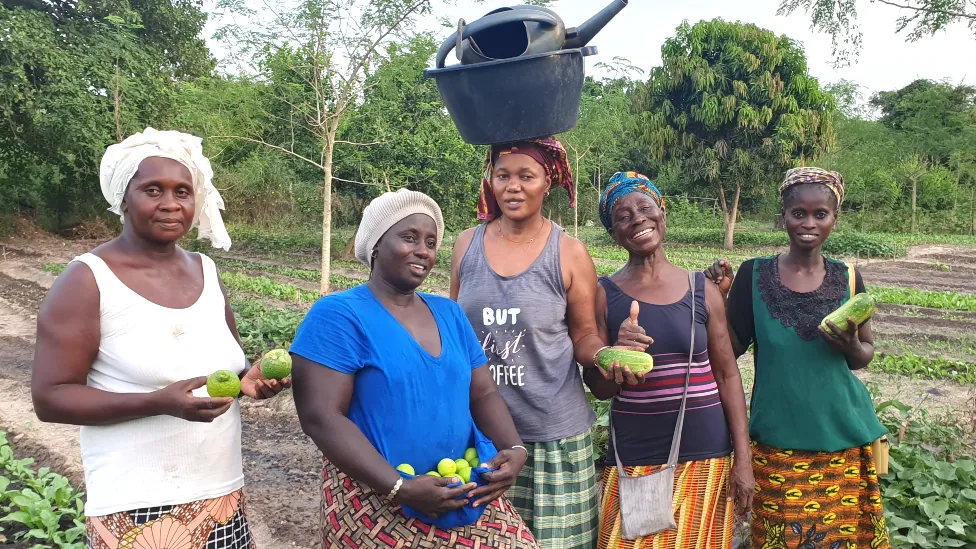 "But if you go to a village where there are only women, it's heaven. They work hard all day, every day.
Mr. Diémé also said, "If you want to lead a good project, start with women."
He has combined his desire to plant trees with his desire to help women learn how to be small-scale farmers and sell their crops at local markets.
One of the women, Safi Yetou, said, "At first, we didn't know how to plant the seeds or what to do to make the crops grow."
"Now we can sell all kinds of fruits at the market, and we don't need anyone else. Now that we all have bank accounts, no one can tell me what I can or cannot do. It's wonderful."
The name of Mr. Diémé's project is Ununukolaal, which means "Our Trees" in the local language Jola.
Up to 12 different kinds are planted, including palms, tamarinds, kapoks, and lemon trees. The types planted depend on what the community needs and how the land looks.
More than 142,000 seedlings have been cared for and grown roots in the last three years.
It means that Mr. Diémé still has to plant a huge number of trees if he wants to reach his goal in the next five years, but neither he nor his partner, Yolanda Pereiguez, are scared.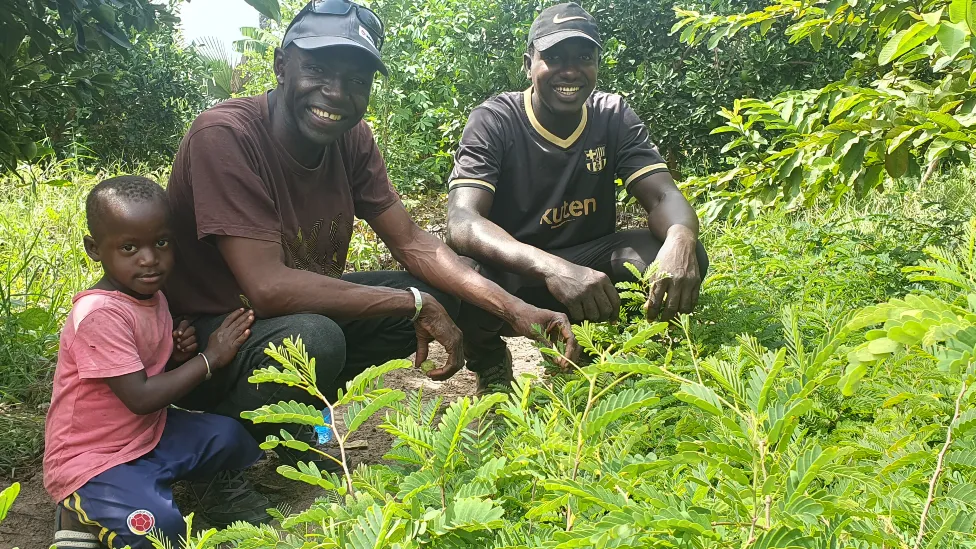 Ms. Pereiguez is a tailor, and she has done a lot to help raise money by making a $15 (£13) T-shirt that is mostly sold abroad.
Together with her coworker Raymonde Coly, they make them in a small workshop with just two sewing machines. They use local fabric and stitch a picture of a baobab tree on it. Each one that is sold can pay for the planting of 15 trees.
Ms. Periniguiz said, "I chose the baobab because it is a tree that stands for Africa." "It's great to know that these T-shirts are going to help with the tree project in places like Europe and Canada."
Baobabs to save homes
As we went deeper into Casamance in a dug-out canoe made from a single piece of wood cut from the roots of a kapok tree, the real value of the project became clear.
On a small island village in the middle of the river, the water came right up to the buildings and even under some that were built on stilts.