It's shortly after midday and Barbra Streisand is taking it easy.
"I just had my coffee and my blueberries and now I'm still in bed, but I'm talking to you," she says, on the phone from her home in Malibu.
She's joined in the boudoir by her "precious little sweetheart" Violet, a fluffy white Coton de Tulear; while an assistant bustles around in the background, fetching lyric sheets and acting as a fact-checker. "Did Jim Henson bring Kermit with him to the recording studio?" Streisand asks at one point. The answer, sadly, is a "no".
A showbusiness legend and an award-winning director, Streisand undoubtedly knows the effect her mise-en-scene will create. But if she's keen to stress her diva credentials, at least she's earned it.
At the age of 79, she holds two Oscars, 10 Grammys, nine Golden Globes, five Emmys, a special Tony and 42 platinum records. More than that, she redefined what it meant to be a superstar.
Take her singing voice. Streisand's ability to shape a phrase so that it seems like she is speaking the lyrics – as if they are occurring to her for the first time – created an intimacy and freshness that has informed generations of performers.
---
More importantly, she changed what it meant to be a female entertainer. When Streisand started out in the 1960s, she was constantly told she was too ugly to be a star. Against all advice, she refused to get a nose job, and became a leading lady anyway.
After her award-winning turn in Funny Girl, she helped establish First Artists – a production company that enabled stars to make films outside the studio system. There, she produced one of her biggest hits, the the 1976 version of A Star Is Born, because she liked that her character "owned the feminist spirit".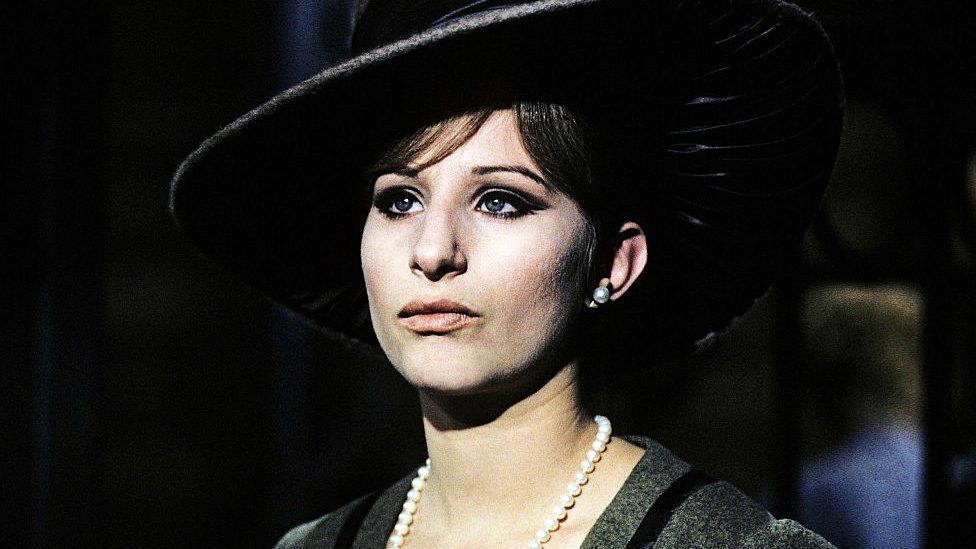 In 1983, she became the first woman to win best director at the Golden Globes for Yentl – the story of an orthodox Jewish woman who, after her father dies, passes herself off as a boy so she can study the Talmud.
It was such a trailblazing moment that, until Chloé Zhao picked up a Golden Globe for Nomadland this year, Streisand was still the only woman to have received the award ("I was happy she won," she says of Zhao's victory. "I wrote her a note.")
Even at the start of her career, aged 21, Streisand struck a deal with Columbia Records to take less money in exchange for full creative control.
"It wasn't important to me to know the amount of money I'd get," she says. "All I wanted was to sing any song I wanted to."
---
Sweet and saucy?
The deal almost immediately proved necessary. Columbia wanted the singer's debut album to be called Sweet And Saucy Streisand. Instead, it was released as The Barbra Streisand Album.
"I said, 'What is the truth of it? It's the Barbra Streisand album.' If you saw me on TV, you could just go [to the record shop] and ask for the Barbra Streisand album. It's common sense."
Twenty-two years and 13 top 10 albums later, she was still relying on that original contract to stop the label pushing her around.
"When I did The Broadway Album, they said, 'Oh no, that's not pop songs', and I said, 'But I have the right to sing what I want to sing.'
"They wouldn't even, at that time, pay me until it sold two and a half million copies [but] it became a number one and I think I won Grammy for it, too. You have to trust your own instincts if you're an artist at all, and go with what you believe and not anyone else."
So Ms Streisand has always called the shots, ever since she strolled on stage for her first Broadway Show – 1962's I Can Get It For You Wholesale – and turned her single number into a standing ovation that reportedly lasted five minutes.
---
A smart businesswoman, who has made millions trading stocks, she also owns the master tapes to all her recordings – something The Beatles, Prince and Taylor Swift never managed to negotiate.
They're stored in a specially-curated vault, where the floor-to-ceiling shelves are crammed full of tape boxes, movie canisters and reels of television specials.
And it's here that Streisand put together her latest album, Release Me 2, delving into the archives and dusting off 10 hidden gems from her six-decade career.
It opens with Burt Bacharach and Hal David's Be Aware which, according to the liner notes, Streisand commissioned for a 1971 TV special after being struck by the plights of child poverty and homelessness.
"It was during wartime, so I think it was about the Vietnam War, too," she says.
"It's such a good lyric, isn't it, by Hal David? 'While your stomach's full, somewhere in this world, someone is hungry. When there is so much, should anyone be hungry?'
"Don't you worry about that today, or wonder why that is? It's very modern. I can't believe we're still in that same position now."