Some nightclubs in England have begun requiring an NHS Covid pass for entry, amid a demand for MPs to debate their use.
NHS Covid passes allow users to show proof of their vaccination, test or immunity status at venues.
They are available through England's NHS app, which is separate from the NHS Covid-19 app in England and Wales.
The Lib Dems called for ministers to scrap the passes for good or at least allow MPs to debate them in Parliament.
Liberal Democrat home affairs spokesman Alistair Carmichael accused ministers of committing to the passports "by stealth".
"We now have a new ID card snuck onto our phones without even as much as a whisper from the government," he said.
Prime Minister Boris Johnson announced earlier this month that people attending nightclubs and other large venues where crowds gather would be required to be fully vaccinated from the end of September.
Some nightclub owners previously told the Covid passes were "unworkable" and that they would not be requiring them.
But the O2 Ritz in Manchester and Electric Ballroom in Camden will both require guests to present a valid NHS Covid pass as a condition of entry to the Ultimate Power club night on Friday evening.
"For our initial London and Manchester events, we are requesting Covid Passes at point of entry to our clubs," the organisers said on the event's website.
Other venues under the O2 brand and run by Academy Music Group, which has around 18 venues in England, tell guests they will be required to show their Covid status on entry.
A "domestic" pass option on the app explains there are four ways to get an NHS Covid pass – through "testing, full vaccination, natural immunity, or an exemption".
It says: "You may need to show you NHS Covid Pass at places that have chosen to use the service." People can also request a paper pass to prove their vaccination status.
The wording on the NHS Covid app was changed on Monday after trials of the domestic pass for events ended, the Department of Health confirmed.
Other updates made this week include linking the pass to Apple Wallet and allowing those who took part in the trial of the Novavax vaccine to obtain a pass.
Differing approaches to vaccination status are emerging across the UK, amid legal, privacy and discrimination concerns.
In Scotland, Deputy First Minister John Swinney has said barring people who refuse a coronavirus vaccination from certain large events is the wrong approach.
In England, Cabinet Office minister Michael Gove warned those who refuse to take a vaccine may be unable to access mass attendance venues such as football stadia or nightclubs.
Foreign Secretary Dominic Raab has said the government was in favour of making Covid passes compulsory in more settings.
Test or jab
To access their NHS Covid pass, users must first link their NHS number with other personal information to verify their identity.
According to the terms of the service, a domestic NHS Covid pass allows a person to demonstrate their Covid-19 lateral flow, PCR test or vaccine status for events or "other domestic uses which the government may approve from time to time".
The terms add that the service is not intended to be used by employers to check their staff have been vaccinated.
It also allows an exemption to apply, for example, when a person has taken part in an official trial for a Covid vaccine that has yet to receive approval.
A travel NHS Covid pass allows a person to demonstrate their vaccination status for international travel.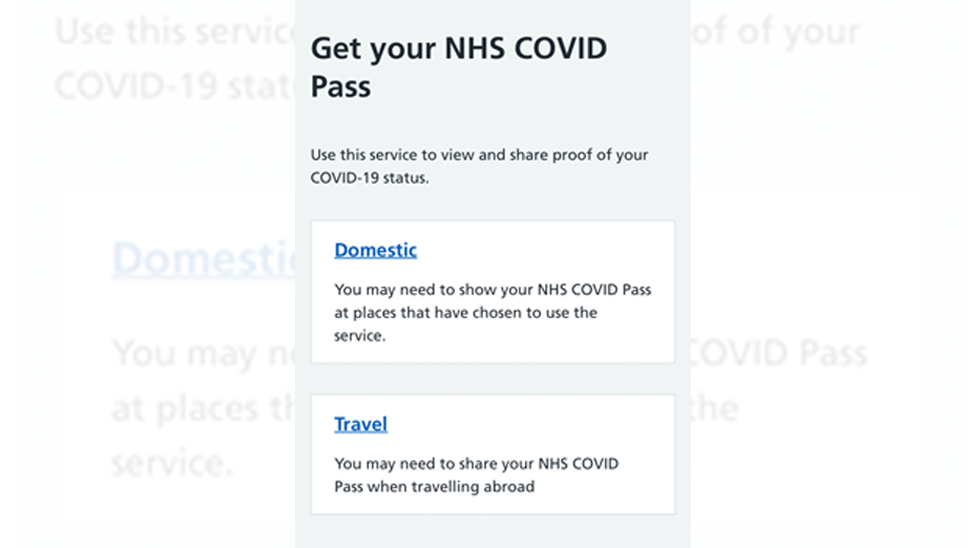 The NHS app is described as being "a simple and secure way to access a range of NHS services on your smart phone or tablet".
It is available to people aged 13 and over who are registered with a GP service and can be accessed on the Apple App Store and Google Play Store, as well as on desktop devices.
Other functions on the app include appointments, prescriptions as well as allowing users to access an overview of their medical history and records held by their GP.
A Department for Health and Social Care spokesperson said: "Businesses, events and venues have been encouraged to use the Covid pass to help reduce transmission of Covid-19."