Sticky toffee pudding marries flavour, regional culture and history, but tensions around its origins remain.
Where is the best place in the world for dessert? Is it Japan, with its sweet mochi rice dumplings, matcha-flavoured ice cream and agar jelly anmitsu? Or is it Italy, with its coffee-soaked tiramisu and shell-shaped cannoli? How about France, with its creme brulee, choux profiteroles and tarte tatin?  No. No. And no.
While these praiseworthy destinations all have their own world-class sweets, there is one above all others that delivers such sugary oomph that it can lead those with a serious sweet tooth straight into the dentist's chair.
This place is England and – more specifically – Cumbria.
It is hard to convey how special Cumbrian desserts and puddings are because most people don't know what England's north-west county is responsible for.
This trail of taste begins with thrillingly unique dishes like Cumberland rum nicky, a lattice-topped crystallized ginger and fruit tart; rum butter, a lightly-spiced sweet sauce; Borrowdale tea bread, a tea-soaked cake; Grasmere gingerbread, an intensely spicy shortbread; and Kendal Mint Cake, a peppermint tablet.
And yet, much of Cumbria's culinary success, in Britain at least, derives from the ubiquitous presence of one dish that is – at times – hailed as the world's most popular dessert. Eat out in the county, particularly in the Lake District, and you will see the same dish on the menu, over and over again.
The dessert in question is sticky toffee pudding and it is a sweet that hums with happiness.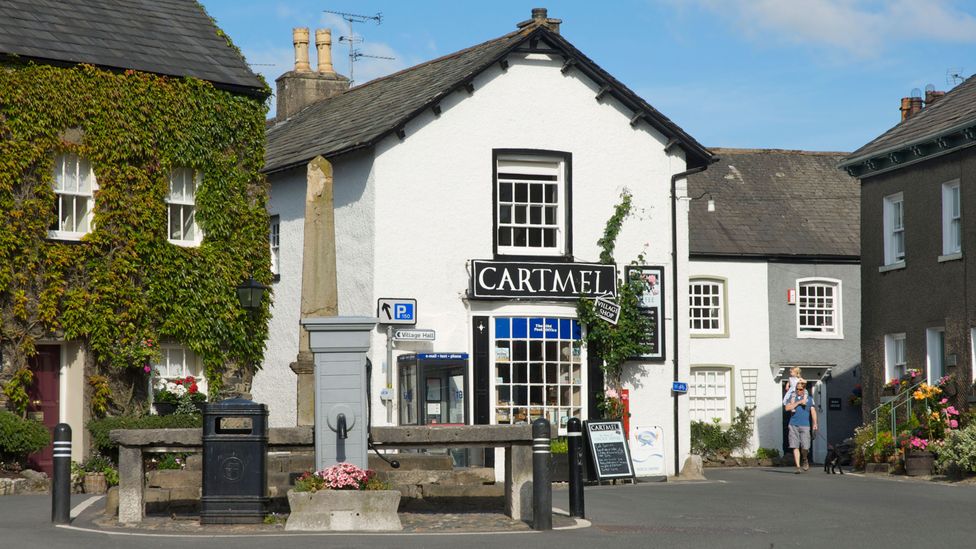 The Cartmel Sticky Toffee Pudding Company has been making puddings since 1984 (Credit: John Morrison/Alamy)
Plain flour, eggs, cream and butter provide the backbone, while the exotica comes from finely chopped dates, soft brown muscovado sugar and, perhaps, a splash of vanilla.
Perfecting the recipe isn't something you pick up overnight and this unapologetically sweet, figgy sponge soaked in treacle-like toffee syrup has become the culinary symbol of the wider Lake District. Even one spoonful here is a rite of passage.
But dig a little deeper, and the origin and ownership of this beloved dessert and national treasure is disputed. Multiple claims and contradictions exist at home and abroad, and in the tiny historical village of Cartmel, which has become custodian to England's most famous version of the pudding, the dessert's true origins are hard to pin down.
"We've championed it, embraced it and pushed it forward more than anyone else," said Sarah Holliday, co-owner of the Cartmel Sticky Toffee Pudding Company and manager of the Cartmel Village Shop. "But we did not invent it."
It is a conundrum summed up perfectly by Cumbria-based author Tess Baxter in her book The Lake District and Cumbria in Recipes and Photographs, where she wrote: "Sticky toffee pudding is such a favourite today that it seems that it must always have been around. However, it is a relatively recent addition to the local recipe book, having been introduced by the Sharrow Bay Hotel on Ullswater in the early 1970s."
Ullswater, one of Cumbria's most beautiful lakes, couldn't have been a more perfect place to start a love affair with the pudding, I thought. Seen on the map, and with a dollop of imagination, the water body looks like an upside-down dessert spoon.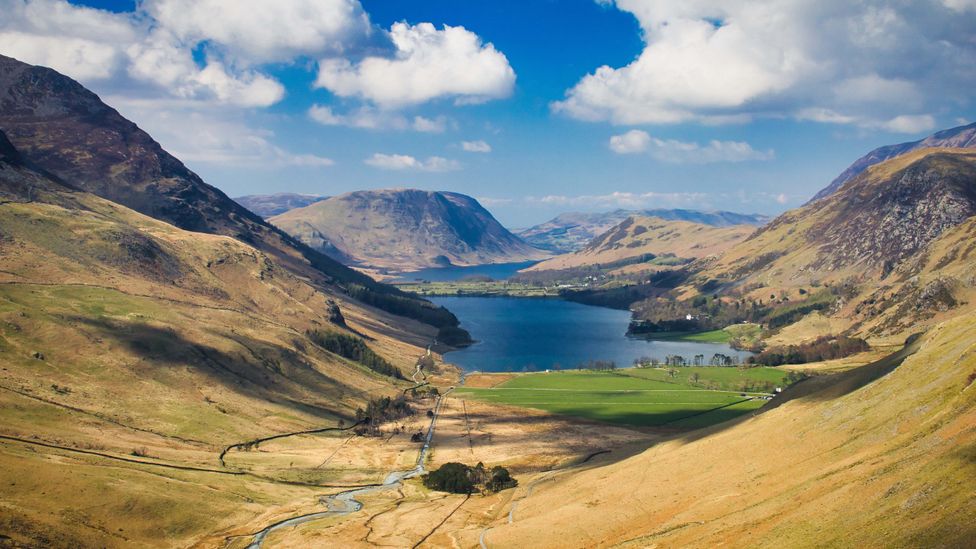 Cumbria is renowned for its sweets and puddings, including Kendal mint cake and Grasmere gingerbread (Devon and Cornwall Photography/Getty Images)
I read Baxter's claim while visiting The Beacon Museum in the Cumbrian port town of Whitehaven on the Irish Sea, my first stop on a pudding detective hunt across the county.
Vestiges of the town's maritime history were on display, and from a gallery overlooking the quaysides, I could see where coffee, rum, dates and sugar were once imported from plantations in the Caribbean. During the 17th and 18th Centuries, warehouses sprang up along the docks and such was the quantity of sugar coming into the harbour that one of the quays still bears the name "Sugar Tongue".
Is this where sticky toffee pudding's true origins lie?
"The harbour was once England's third biggest in the 18th Century," learning and collections manager Alan Gillon told me, looking out across the Solway Firth. "Imagine the harbour filled with 200 tall ships laden with goods and textiles. Hard to believe really, but the roots of Cumbria's sweet tooth was born here."
The roots of Cumbria's sweet tooth was born here
Long gone are the days when customs and excise boats patrolled the coast with the aim of preventing and catching smugglers. While crucial trade links existed between Whitehaven and the Americas, and plenty of goods were legally imported into the port, passing collier ships acquired bootlegged goods and smuggling flourished between the north of England, Scotland, Ireland and the Isle of Man.
Chief among the smuggled goods? Sugar.
It seemed more than coincidence that the two most characteristic ingredients of sticky toffee pudding — sugar and dates — once flowed freely into Cumbria. Perhaps, subconsciously, this set the scene and planted the seed for what followed.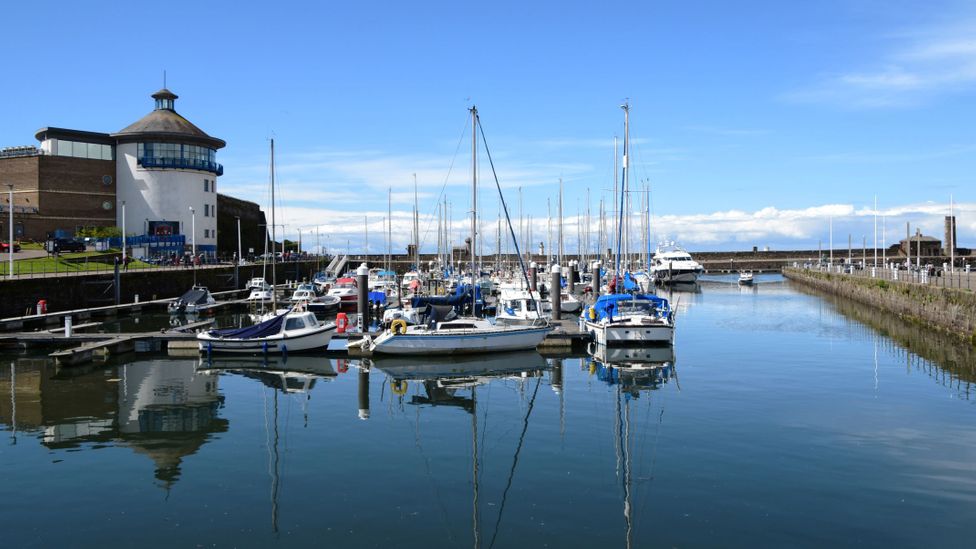 Whitehaven was once England's third largest harbour and the destination for coffee, rum, dates and sugar (Credit: Christine Rose Photography/Getty Images)
Exploring further afield – and leapfrogging back through the centuries — the next stop on my journey took me to Ullswater, one hour inland and deep into the heart of the Lake District National Park. Here, it soon became clear that the crux of the pudding's story has faded over time.
Today, the Sharrow Bay Hotel, one of the first country house hotels in Britain, is a victim of the Covid pandemic, with the parent company placed in liquidation and visitors mourning the loss.
Local lore claims the sticky toffee recipe was created here and held in the hotel's vaults, with staff having to sign an agreement to safeguard the pudding's secret. All of this, understandably, is hard to prove today. Former co-owner and the pudding's original champion, Francis Coulson, who first named it "icky sticky toffee pudding", passed away in 1998.
If the backstory is legitimate, then you should also know that there is an immediate counterclaim. Canada maintains a stake in this creation myth, and it is a contention given weight by accounts of the hotel's co-owner and Coulson's partner Brian Sack from his time in the Royal Air Force during World War Two. Supposedly, the idea for the pudding's toffee sauce was sparked when he met two Canadian pilots using maple syrup.
Another claim takes this storyline further, positing that the original recipe was, in fact, handwritten by the Canadian air force personnel and passed on to a hotel manager while lodging in nearby Lancashire. In the years that followed, only then did the recipe make its way to Ullswater.
Admittedly, it's not hard to imagine how the combination of a traditional Lancashire-style bread pudding and a puddle of Canadian maple syrup gave rise to the irresistible aromas of my favourite dessert. So, could sticky toffee pudding be Canadian? After all, Quebec's deliciously butterscotch-heavy pouding chômeur is hardly a world apart.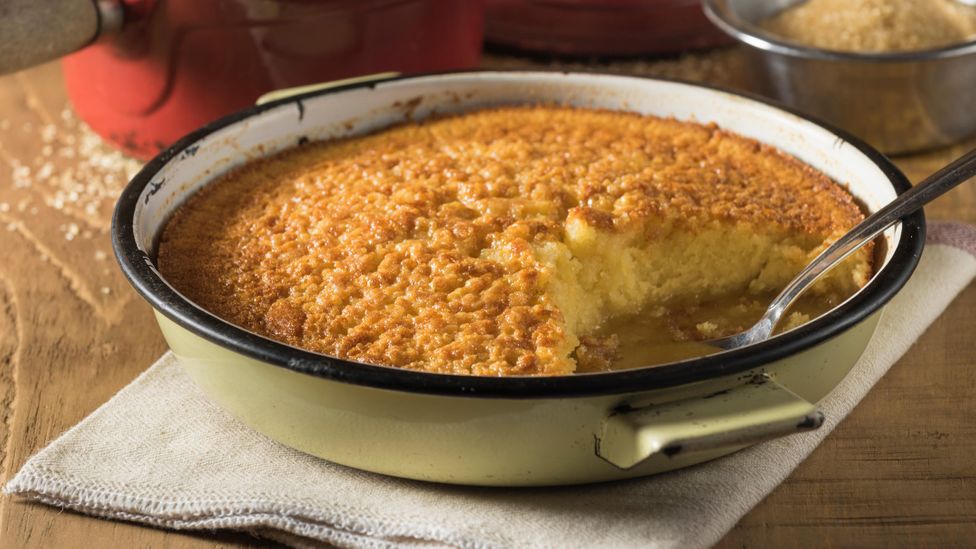 Quebec's pouding chômeur bears some similarities to sticky toffee pudding, as does Australia's sticky date pudding (Credit: Simon Reddy/Alamy)
Still, in other parts of Britain, there are places with similarly cavalier assertions. One such spot is the Udny Arms Hotel in Newburgh, Aberdeenshire, which once claimed to have first served the desert in 1967; while another is the Gait Inn in Millington, Yorkshire.
Here, so the story goes, the former landlady put the dessert on the menu as far back as 1907. All of these tangled histories add to the sense that sticky toffee pudding seems to have been born fully realised.
In fact, even without knowing it, many of us have probably tasted the cake-like pudding in some guise elsewhere. If you ask an Australian, you might be told the dense-like cake is, in fact, Australian sticky date pudding. Likewise, you could hear the same story in New Zealand.
While Ullswater offers a window into Cumbria's past, nowhere understands sticky toffee pudding today better than Cartmel.
If you ask an Australian, you might be told the dense-like cake is, in fact, Australian sticky date pudding
Even to someone accustomed to visiting England's prettiest towns, Cartmel is striking. On any given day, the village is as busy as a beehive with dessert seekers, and from its 16th-Century market square to the 800-year-old priory, built by Augustinian canons in 1220, there is one word on everyone's lips: pudding.
"Sticky toffee pudding is my life," said Sarah Holliday, when we sat to eat – what else? – one of her world-famous desserts upstairs at the Cartmel Village Shop. "It's been all consuming. It's my livelihood and kept my family in business all these years. It's amazing, really."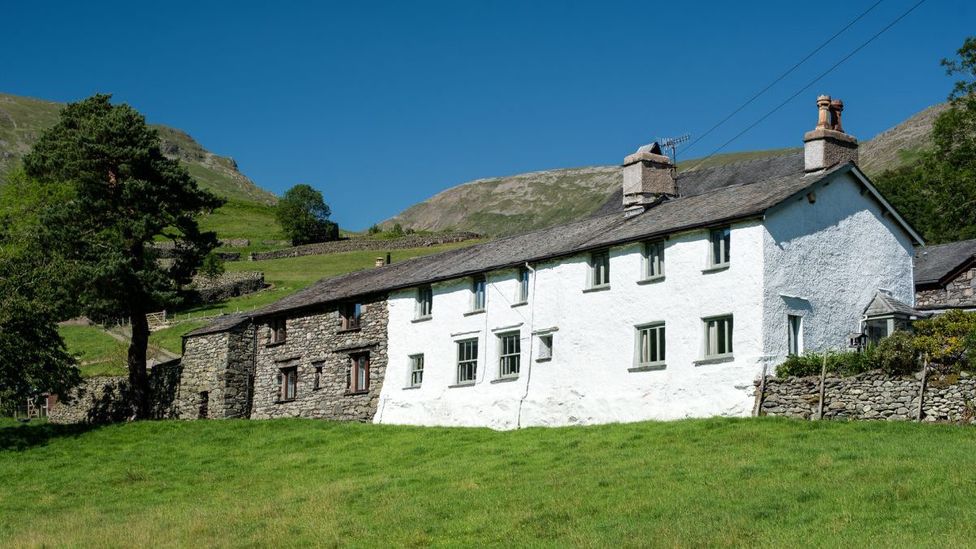 The Yan, a converted 17th-Century farm bistro, serves up sticky toffee pudding with clotted cream (Credit: The Yan)
Since making the first pudding in 1984, the Cartmel Sticky Toffee Pudding Company has sold in excess of 10 million puds. What's more, upwards of 1,000 are sold from across the shop's counter every week. The secret sauce here is not only the atmospheric backdrop, but the unwavering reliance on local, organic ingredients.
"Big companies have asked us to make our puddings cheaper, but we won't scrimp on ingredients," said Holliday. "No margarine; real butter. No syrup; dark muscovado sugar. Eggs from down the road. Double cream from the local milkman."
If I had learned one truth on my Cumbrian trip, it was that there is no such thing as too many puddings. Any eatery or inn in Cumbria has to be judged by its desserts, and one last outing took me north to the Cumbrian village of Grasmere and to The Yan, a converted 17th-Century farm bistro, which makes a great deal of its countryside comfort food. What better place to try my last sticky toffee pud?
Against stiff competition, chef Will Manley's was a dessert worth daydreaming about. It was gooey and sickly sweet, but in a good way. Raisiny, batter-thick and drowning in toffee sauce. It demanded my full attention.
So, I raised my spoon, loosened a notch from my belt and, in the name of research, saluted this contentious, if enigmatic, prince of puddings.
—