Spanning three countries and extending 1,500km, the soon-to-open TCT will take hikers into the heart of some of the world's most culturally and ecologically diverse regions.
Ushguli is one of Europe's highest settlements, and there are moments along the four-day hiking trail to reach it when it's easy to feel lost amid the wide plains and high peaks of the Caucasus Mountains' vast southern slopes.
Winding 2,000m above sea level between glaciated peaks and rocky gorges, the trail crosses meadows and grasslands grazed by horned cattle and hardy chestnut-red horses.
Jaw-droppingly wild and impossibly remote
Along the route, walkers overnight at guesthouses, and as the sparse villages of north-west Georgia's Svaneti region come into focus, you find yourself craning up curiously to the sky.
Here, the tiny hamlets of this Unesco-inscribed region are built into steep hillsides and punctuated with medieval skyscrapers: five-storey stone defensive towers, some standing here since the 8th Century.
Jaw-droppingly wild and impossibly remote, Svaneti is a sparsely populated landscape roughly the size of Devon, England, that's marked by snow-capped peaks, alpine meadows and hundreds of now half-deserted villages.
Throughout his childhood, Davit Khergiani spent each summer here, in his family's native Mestia, the small provincial capital that doubles as the starting point of the Mestia-to-Ushguli trail.
His family have a traditional koshki, one of the roughly 175 medieval defensive stone towers built by the autonomous Svan clans who have traditionally governed this region with little outside interference.
From the Byzantines to the Soviets, the Svans were fiercely resistant to any empire who stepped foot in the region, and they have spent much of the past millennium linked only precariously to other Georgians. Today, their historical Svaneti homeland remains home to an unwritten language still spoken by some locals.
From Khergiani's family home, he was free to explore as a child, venturing out from the family's wild garden into the meadows and mountains, where brown bears live the hills. "It was mostly going hiking, going to collect mushrooms, going fishing or just playing with friends," he said.
Now just 32, Khergiani has witnessed a lot of change in Svaneti. During these idyllic summers in the 1990s, Khergiani says he didn't notice the violence that then surrounded the region, following the collapse of the Soviet Union, when the mountainous roads into Svaneti were haunted by gangs with Kalashnikov assault rifles.
Many, including members of his family, were robbed traveling at night. "There was no government control, and no police control and people tried to survive [however they could]," he explained.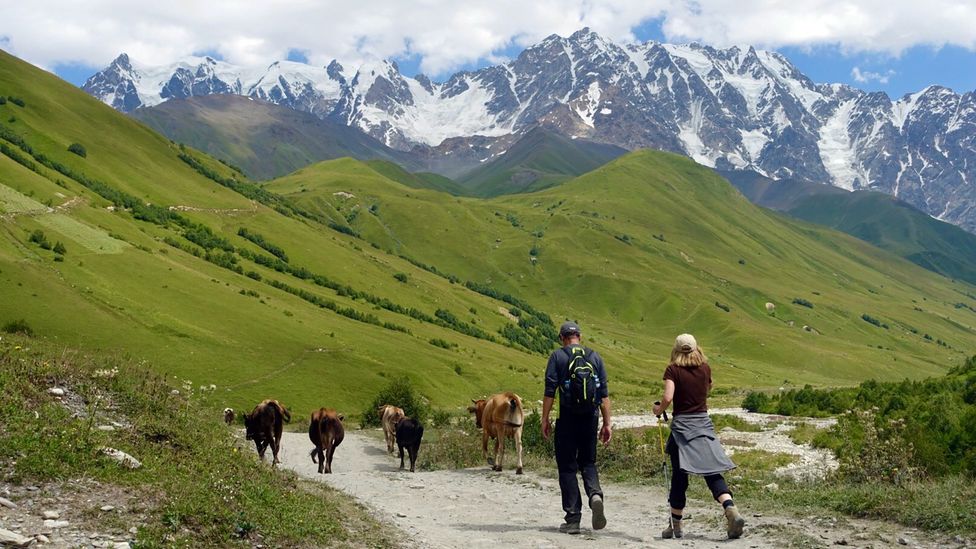 Cows and horses graze in the meadows and grasslands along the route (Credit: Transcaucasian Trail Association)
Georgia's pro-Western Rose Revolution in 2003 brought a crackdown on crime in Svaneti and, since then, an uptick in tourism has brought investment to the area that has allowed young people like Khergiani, who went to university in Tbilisi, to return.
But this boom, in turn, has prompted concrete construction and rows of Alpine-style chalets that have begun to disrupt the ancient feel of Svaneti's stone mountaintop hamlets. 
Now, Svaneti is at the center of a Caucasus-wide experiment in sustainable tourism to see whether slow, self-guided tourism can preserve these fragile environments and cultures, rather than erode them.
This year, visitors can walk roughly 250km of trails across Georgia's mountains as part of a planned 1,500km walking route that will eventually link the Black Sea to the Caspian Sea, connecting Georgia with Armenia and Azerbaijan.
Known as The Transcaucasian Trail (TCT), the hope is it will lure visitors eager to learn about the region's unique cultural and environmental diversity, as well as investment to protect it.
The Caucasus region was described by Arab visitors in the 10th Century as a "mountain of tongues", for its incredible linguistic diversity. To this day, the Caucasus' far-flung location and rugged terrain has incubated a density and diversity of ethnic and cultural groups compared by linguists to the Amazon rainforest or the islands of Papua New Guinea.
Roughly 40 Indigenous languages are spoken in an area slightly smaller than Great Britain that straddles Europe and Asia, including Svan, Mingrelian, Chechen and Abkhaz, which are all spoken by locals living along the trail.
The region's pristine landscapes and a multitude of endemic species have also led it to be named one the planet's 34 biodiversity hotspots.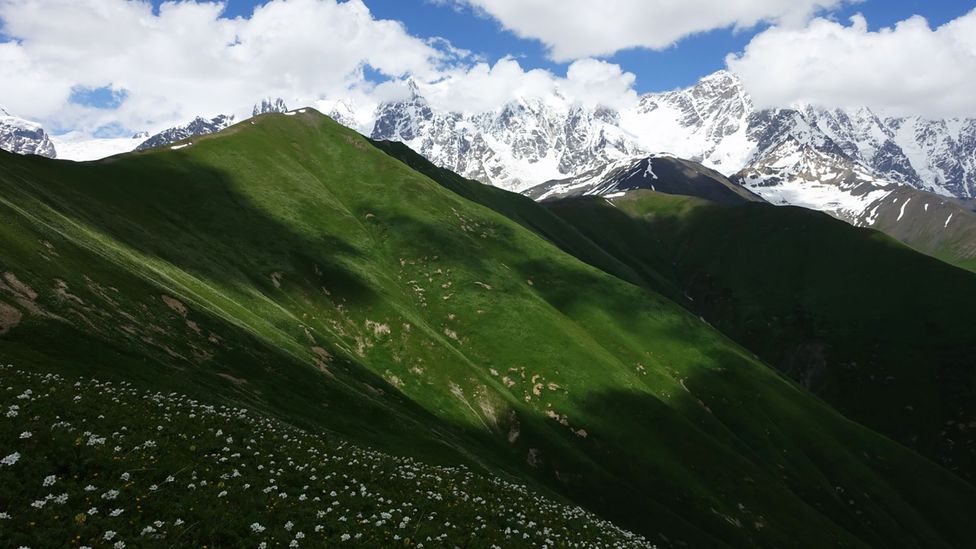 The Transcaucasian Trail leads hikers across the southern slopes of the Caucasus Mountains (Credit: Transcaucasian Trail Association)
Meagan Neal, co-executive director of the non-profit Transcaucasian Trail Association (TCTA), which is coordinating the development of the trail, said she wants hikers to take away a sense of the "richness of the Caucasus – culturally, geographically, linguistically".
"I think the slowness of walking really helps with this," said Neal. "A slow walking journey will really highlight the transitions between these areas and the diversity across the whole region, while also showcasing a lot of the commonalities that exist across all three countries."
Since 2015, the TCTA has added signage and infrastructure to link already-open sections of the route – including former Soviet Jeep tracks and trails trodden by locals. For up to six months of the year, much of TCT is blanketed in snow, meaning volunteers are called on to help expand the route each summer.
Last year, the Covid pandemic essentially halted the trail's development, and a geopolitical conflict between Armenia and Azerbaijan caused sections of the route to be diverted. Ultimately, if the project is successful, it will create a trail that will take three months to complete on foot.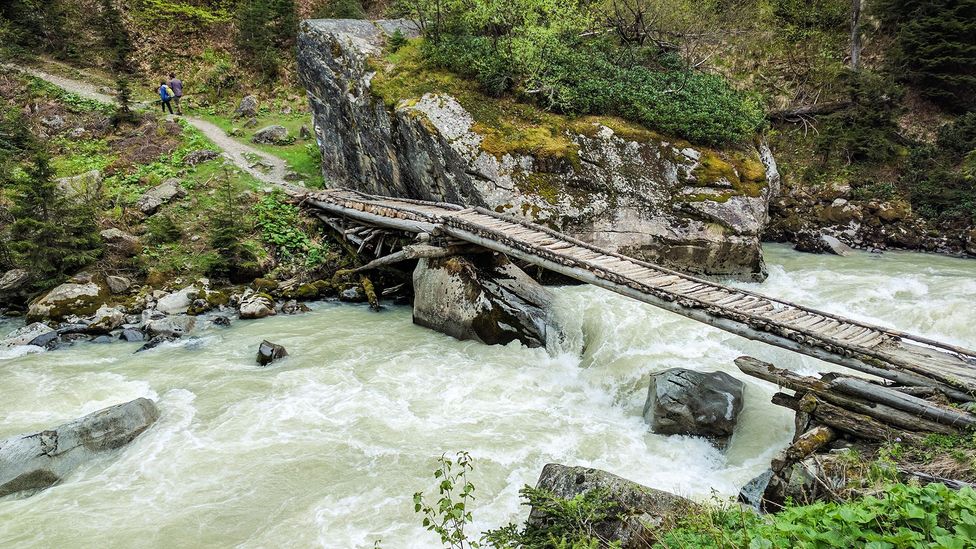 Better signage and recently improved infrastructure make it easier for hikers to navigate the trail (Credit: Transcaucasian Trail Association)
From 2022, the TCTA will invite hikers on the longest public trek yet, a 1,200km journey from north-west Georgia to southern Armenia, encompassing well-trodden sections of the route and wilder sections currently under development.
In the last few years, the existing 57km Mestia-Ushguli leg has emerged as the most popular section along the TCT, taking walkers through some of the Caucasus' most dramatic mountains and Svaneti's unique architecture, in a hike that is manageable for even novice hikers, like me.
A new extension, currently under development to the east, means that Ushguli will mark the northernmost end of the existing route and the start of a new leg, which will take intrepid hikers into the temperate highlands of Racha, a region of vast lakes, winding rivers and waterfalls.
Each day in peak season from July to August, about 400 walkers currently depart on the existing route from Mestia to Ushguli, according to Khergiani.
They cross one peak every day, climbing for the morning and gradually descending in the afternoon into the next village, where locals in newly converted guesthouses serve hearty meals of khachapuri (cheese bread), stews, honey and homemade wine. 
During the winter months, when all roads are cut off by heavy snow, the population of Ushguli shrinks to one local doctor and about a dozen hardy holdouts. As the frozen mountain passes become navigable in early June, the hiking route from Mestia is revealed.
When I set out in early summer, the route to Ushguli was a vast, vivid kaleidoscope of wild mountain flora, with sparse forests of dwarfish and twisted trees, and endless expanses dotted with poisonous hogweed, rhododendron, shrubs and dwarf elder. As I hiked beneath some of the tallest mountains in Europe and breathed in the abundance of sweet-smelling natural herbs and wildflowers, I was struck by the feeling of limitless space and a sense of nature re-emerging.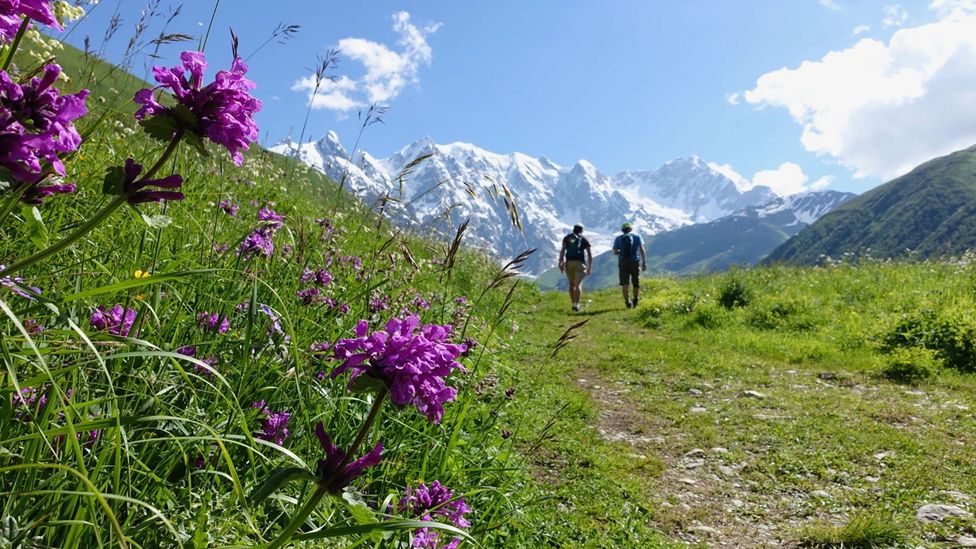 The Mestia-to-Ushguli section of the Transcaucasian Trail is most popular in July and August (Credit: Transcaucasian Trail Association)
Hikers are far from alone on the trail. As I walked, I shared the trail with cattle, Kabardian horses and swarms of piglets, who needily greeted me and my fellow hikers, mobbing our legs.
For a day, crossing the tallest and snowiest peak at the foot of the Adishi Glacier – a thin ridge of dirt edged by icy inclines – I was accompanied by a Georgian mountain dog who bounded over the frozen slopes and apparently slept each night where he pleased. Traditionally used to guard flocks of sheep from wolves, the breed resembles a small polar bear with a Labrador-like face.
One river along the trail is passable by foot only in the earliest hours of the morning (before the glacial melt picks up with the sunrise), and for those not keen on wading-waist deep through an icy river at 06:00, you can borrow a horse for a small price from locals to carry you across.
The idea of a long journey by foot is compelling to people
Much of what has been written about the Svaneti region focuses on the dark history of these self-sufficient and cut-off communities, with a particular morbid curiosity for the so-called "blood feuds" vendettas – whereby Svan families revenged decades-old injustices with killings that only subsided recently, according to Khergiani.
Khergiani says that as hikers slowly absorb the local culture, it is easier to push beyond simple stories about the place.
"Mostly what tourists ask here, when they see these many medieval towers, is what the towers are built for. And you can't really say, shortly, you know: 'The tower for protection or for family'. There is a whole story you have to tell: from whom they were protecting, and how this architecture appeared."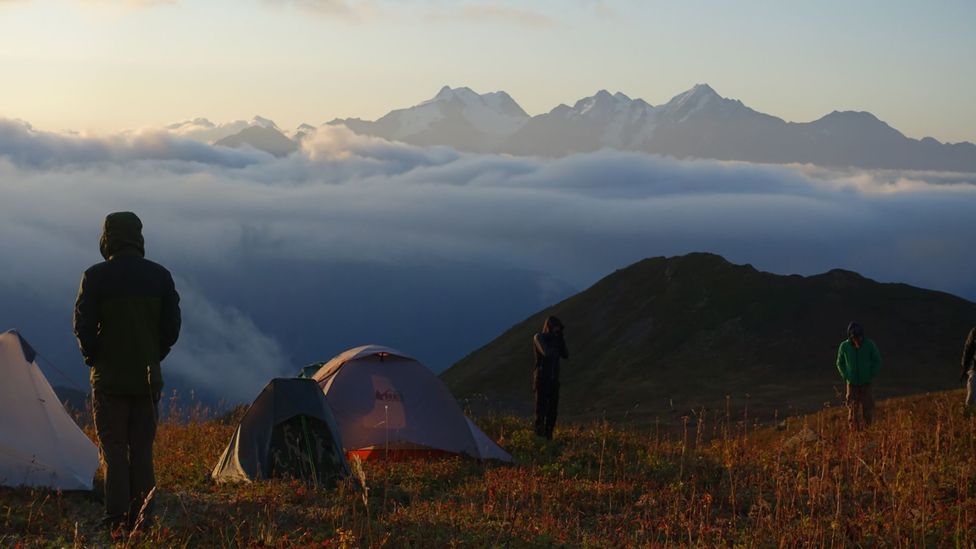 Along the route, hikers camp or stay overnight in guesthouses (Credit: Transcaucasian Trail Association)
Khergiani explains how certain towers are placed between a high glacier and the family's day-to-day home below to keep it protected from avalanches. More often though, they served as a place to evacuate from attacks from neighbouring families to expanding empires throughout the centuries.
More than anything, Khergiani hopes that visitors will leave with a deeper understanding of how Svan culture has evolved over the years. According to Neal, the region's unique rhythms and rites will become evident as hikers slowly move through the TCT.
"The idea of a long journey by foot is compelling to people," she said. "Moving through all of this diversity in terms of culture and ecosystems ends up putting places on a map that you never would consider if you're just looking at the map and planning the highlights of your trip."