The summer of 1969: Neil Armstrong walks on the Moon. Woodstock becomes the defining moment of the counterculture movement. And Stevie Wonder, Nina Simone, Mahalia Jackson and BB King play to a combined crowd of more than 300,000 people at The Harlem Cultural Festival.
Two of these events have adorned the covers of 20th Century history books ever since. The third has been all but forgotten.
A new award-winning documentary, The Summer of Soul, aims to right what it believes to be a serious cultural wrong; the fact that what could have been the "Black Woodstock" has been largely ignored for more than half a century.
The film's director Ahmir Thompson, aka Questlove, says The Harlem Cultural Festival being forgotten about is part of "the all-too-common erasure of black history".
Questlove is best known as the drummer for The Roots, currently the house band on Jimmy Fallon's US talk show. He also DJ'd at this year's Oscars and is a professor at New York University, where he is an expert in Black Music History. He was shocked that he had never heard of this event, one that he now believes to be of huge importance.
Speaking passionately from New York, the star explains how in 2017, out of the blue, two film producers, Robert Fyvolent and David Dinerstein, presented him with 40 hours of footage from this festival, which took place over six Sundays from June to August 1969, in New York's Mount Morris Park.
He is keen to share the backstory, all of which was new to him.
"The Harlem Cultural Festival was an event thrown by two gentlemen, Tony Lawrence [who booked the acts] and by Hal Tulchin [who filmed it]," he tells BBC News. "They somehow managed to gather some of the mavericks of their day. We're talking about Stevie Wonder. Nina Simone, Sly and Family Stone, Ray Barretto, Olatunji, Hugh Masekela, Edwin Hawkins Singers, BB King, comedians, politicians, everybody was there."
'Sitting in the basement'
The reason why Questlove and so many others have never heard of this series of concerts, is what happened, or rather did not happen, next.
"The event is preserved professionally on tape and not one producer or outlet is interested in seeing the footage or making it worldwide-known or distributing," he continues. "So, what winds up happening is that this film just sits in the basement for 50 years."
While Woodstock was immortalised in an Oscar-winning documentary, helping to make it famous around the world, The Harlem Cultural Festival was only broadcast in the form of two one-hour highlights shows on a local New York TV station and never repeated.
The 50-year basement Questlove was speaking about belonged to Tulchin, who filmed the event. The TV veteran was approached over the years by potential documentary makers and the footage lodged with the US Library of Congress, but nothing came of it. Then shortly before his death in 2017 he signed a contract for all 40 hours to be used by the team behind Summer of Soul.
The footage is remarkable, showing everything from the joy of Stevie Wonder playing a drum solo under an umbrella in a downpour, to the intensity of the spoken word section of Nina Simone's performance, where she asks the audience if they are "ready to smash white things, to burn buildings?".
The dayglow colour schemes on show throughout the concerts also add to the whole vibrancy of the documentary.
'Gave me goosebumps'
Questlove says that despite never having directed before, he was chosen because the producers viewed him as a storyteller.
"I'd say it took me five months, just to live with the footage. Five months of just constantly having these monitors in my house in every room, my house, my kitchen, my bathroom, my bedroom, I kept it on 24-hour loop. That's all I watched. And I kept notes on anything that gave me goosebumps. And what I wound up doing was curating it, like I curate a show or DJ gig."
Summer of Soul, which won the 2021 Sundance Documentary Grand Jury Prize, is a lot more than a concert film though. It uses the event to examine the extent to which 1969 was a turning point for black identity.
"If you really wanted to call somebody an insulting name in the black community, you called them African, and then be prepared for a fight. That's how deep this kind of self-hate was embedded in us since, you know, since centuries ago. And so, what winds up happening is in 1969, there becomes a paradigm shift."
He adds: "A new generation comes and they just have a new way of thinking and it's not like the Martin Luther King generation. They are the Black Panther generation and they're embracing, they're calling themselves black. I'll say the seeds of Black Joy start in 1969, with our expression, our style, our fashion, our music, our creativity."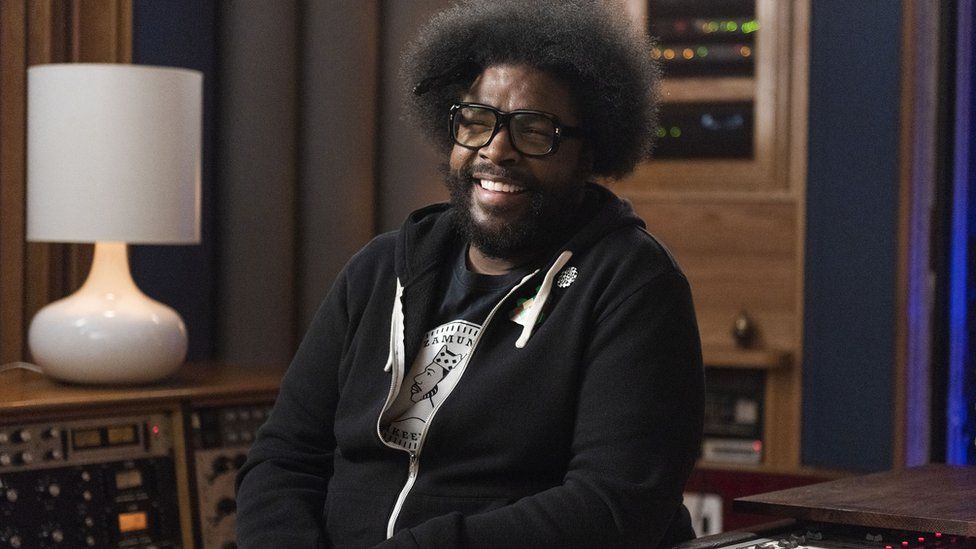 In one fascinating sequence from 20 July, a vox pop of the almost entirely black crowd reveals a total disinterest in the moon landing, which was happening at the same time. Mind you, Stevie Wonder, Gladys Knight and David Ruffin from The Temptations were on-stage, demonstrating somewhat fancier footwork than Neil Armstrong.
The other seismic cultural overlap was with the Woodstock Festival, which took place from 15-18 August. Only one act played both events, Sly and the Family Stone. "He did the Harlem Cultural festival two weeks before as a rehearsal," explains Questlove. "I was debating whether or not I should mirror both performances to show how identical they were."
Questlove's research also revealed that that one Woodstock hit was turned down by the Harlem Cultural Festival, "James Marshall [Jimi] Hendrix," he laughs.
"I don't know the exact reasons why he got a no, but he got a no. What he actually wound up doing was becoming the official after-party for at least three of those weeks. He and blues great Freddie King toured a bunch of Harlem clubs. So yeah, we could have had, we could have had Jimi Hendrix too."
The drummer-turned-director believes that there are many more black cultural touchpoints which have been erased from history and are now ready to be brought into the spotlight. He hopes to play his part.
"This last week alone, I've been made aware of five to six other events that are almost just as equal to this event, that the world has never heard about. One particular American university, just let me know, 'We have 20 hours of blah, blah, blah, blah, blah.' And I'm like, 'What?'"
"So yeah, I feel as though hopefully this film will be a smoke signal," he says. "This might be my new destiny, and I didn't even know it yet. But you know, I welcome it."
He cracks a huge smile, before repeating: "I welcome it."