A new Three documentary, Under the Skin: The Botched Beauty Business, exposes how complicated aesthetic procedures, involving needles and surgical threads, are being taught over the internet or on unsafe one-day courses.
Undercover footage of a non-surgical facelift training course shows a trainer accidentally puncturing a patient's blood vessel and increasing the patient's likelihood of infection through poor hygiene practices.
Experts who watched the footage believe students attending this course could go on to pose a risk to the general public.
Filler, microblading and botox: non-surgical cosmetic treatment
Aesthetic or non-surgical beauty treatments, such as botox, micro-needling and thread lifts, have surged in popularity over the last few years.
This has coincided with an increase in the number of training courses that teach practitioners how to administer these treatments.
But aesthetic training courses are almost entirely unregulated.
The government does not require an aesthetic practitioner to have any mandatory qualifications, even though some treatments involve needles and can cause serious complications.
Anybody can go on a training course and get qualified.
With no compulsory standard, the quality of an aesthetic training course varies hugely.
In the city of Liverpool alone, Three found 26 cosmetic training academies offering courses ranging from £150 to £5,000.
These courses lasted anywhere from a couple of hours online to a couple of days of face-to-face training.
In April this year, Three sent a nurse, undercover, to a Liverpool-based training academy called Boss Babes Uni.
The nurse, who we're calling Jemma to protect her identity, attended a course that teaches students how to perform a non-surgical facelift using surgical threads. The treatment is sometimes referred to as a thread lift.
The process involves using a thread similar to the thread surgeons use to stitch wounds.
Using a needle, the thread is inserted into the skin and is pulled upwards, creating the illusion of a facelift.
A leading cosmetic doctor, Dr Vincent Wong, argues that a thread lift is the most dangerous procedure an aesthetic practitioner can do.
"So many things can go wrong, more so than any other injectable treatment," he says. "This is because threads stay in the skin for a long time and you can't pull them out.
"If it works, the results are incredible, but you can cause long-term irreversible damage."
Dr Wong trained for three months, on four different courses, before performing his first thread lift.
At Boss Babes Uni, the thread lift training course consisted of five hours of online theory training, followed by a day's practical course in Liverpool.
Jemma, a nurse with more than twenty years of experience in aesthetics, was shocked at the unprofessionalism and unsafe practices taught on the course.
According to Dr Wong, a thread lift requires an exceptionally sterile field to avoid any infections. But our undercover nurse saw the tutor on numerous occasions touching several objects and immediately touching the patient's face, increasing the likelihood of a long-term infection for the patient.
"There was no attempt to control infection," Jemma says. "The tutor performed the procedure on a chair instead of a clean bed. She took a phone call in the middle of the treatment and even asked me to film her performing the procedure on her phone."
Our undercover nurse says the trainer went on to post the video clip on social media while the patient still had the needle in her face.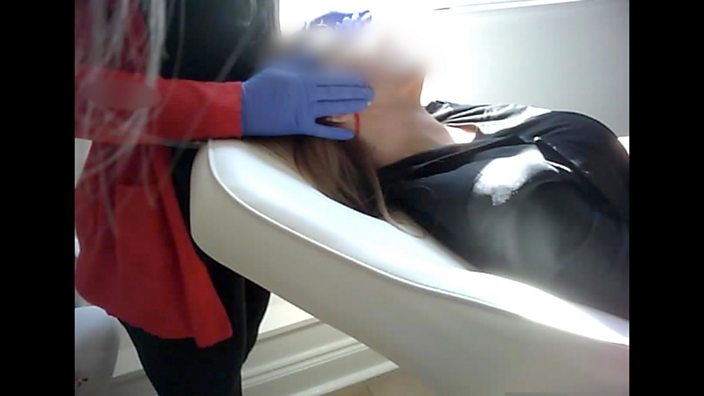 Secret filming also revealed the tutor puncturing the same patient's blood vessels several times during the procedure.
"You could see how much pain the patients were in," Jemma adds. "They were grunting when they were injected with the local anaesthetic."
Our nurse also witnessed patients vaping during and drinking alcohol before the treatment.
"I'm speechless, absolutely speechless," Jemma says.
"The bottom line is no student would have left there with the technical, or practical capability to provide safe and comprehensive treatment – a total danger to the people they choose to treat sadly. I never expected it to be that bad."
Save Face are a government-approved national register of accredited medical practitioners and a place for patients considering treatments to find a safe one. They have been highlighting the issues within aesthetic training and education and its impact on the public for several years.
Save Face's director Ashton Collins watched this footage and believes "there's no doubt that if people following that course go on to do treatments [it] will cause a lot of complications".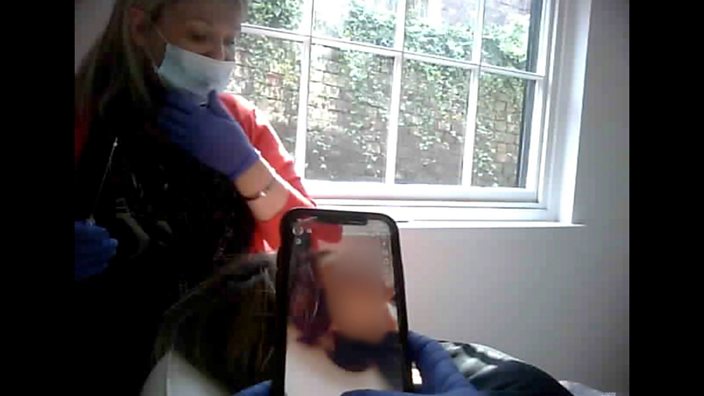 Boss Babes Uni is not registered with the Care Quality Commission (CQC) – the body who monitor and inspect health care providers. This thread lift course was taught by a registered nurse. It is a criminal offence for a medical professional to carry out a thread lift without being registered with the CQC.
When Three approached Boss Babes Uni with these concerns, they said that "the safety of our customers and quality of our training are of the highest priorities". Boss Babes Uni were concerned to learn of allegations but claimed they did not have sufficient detail to respond more fully.
Discovering the unregulated aesthetics industry
For beauty influencer Anchal Seda, cosmetic procedures have been a key source of her confidence.
A make-up artist and YouTube beauty guru with over 200,000 subscribers, Anchal was one of the first YouTubers to openly talk about having cosmetic procedures.
"I couldn't find another South Asian [influencer] that had openly said what [cosmetic treatments] they had done and I just thought, well, we shouldn't actually be ashamed," she says.
"I've had lip fillers, micro-needling, facials, laser treatments and even two nose-jobs."
To find out more about how these courses were run, we asked Anchal to go on a training course that would teach her how to do a micro-needling treatment – a procedure which involves inserting  small needles into your skin to produce more collagen. Though she's had the procedure done before, she had no experience of carrying it out.
The course was taught entirely over Zoom, after which she would need to send them an image of a case study she practised on and then receive her qualification.
After just under an hour and a half, the training ended.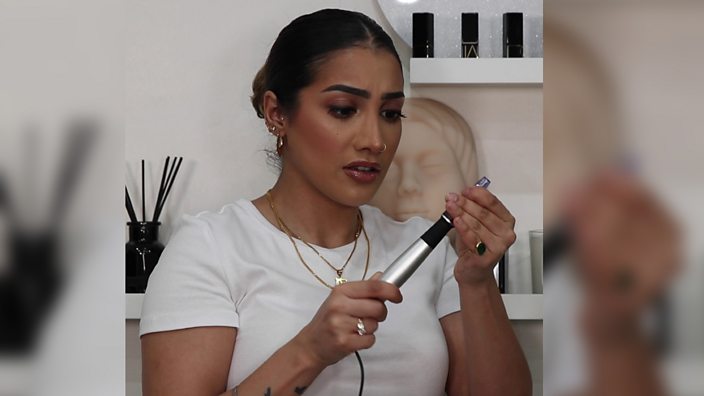 "It was so simple," she says. "A trainer essentially spoke through a PowerPoint about micro-needling. There was no live demonstration, they didn't even have a micro-needling pen to show you.
"I couldn't believe they were asking me to go off and give this a go on someone.
"Not to mention, the course also didn't really cover good hygiene practices, the importance of sterilising equipment or needle-stick injuries."
Three showed Anchal's micro-needling course to Dr Vincent Wong. He told us this course "was not sufficient to ensure students will practice safely.
"It is simply not safe to perform this treatment without proper practical guidance to show the right techniques and face-to-face assessment.