It came out of nowhere. It changed the course of pop music. It was Wannabe – the scrappily brilliant debut single by The Spice Girls.
The record label had been worried. Wannabe was too weird, too anarchic. They hated the video. Radio 1 was refusing to play it. Breakfast show DJ Chris Evans told the band to go back to kids' TV.
But the girls knew better. "It's not negotiable as far as we're concerned," they insisted. "Wannabe is our first single."
And "if they decided they wanted to do something, then that's what was going to happen," Wannabe's co-writer Richard "Biff" Stannard .
History proved them right.
Released 25 years ago, on 8 July 1996, Wannabe spent seven weeks at number one in the UK and four in the US.
In the process, it made five unknown girls – Victoria Caroline Adams, Melanie Janine Brown, Emma Lee Bunton, Melanie Jayne Chisholm and Geraldine Estelle Halliwell – global superstars.
Here's a story from A to Z of how the band started, rose to fame, fell apart and put themselves back together again. So grab a cup of tea, slam your body down, wind it all around, and we'll begin.
A is for Auditions
On 4 March 1994, 400 aspiring singers crammed into London's Dancework Studios after spotting an advert for a new girl band in The Stage newspaper.
They were split into groups of 10 and taught a dance a routine to Eternal's Stay. Afterwards, they each performed a solo song to father-and-son management team Bob and Chris Herbert.
Mel B blew them away, singing Whitney's The Greatest Love Of All, while Mel C went for The Pointer Sisters' I'm So Excited and Victoria chose Mein Herr from Cabaret.
A month later, they were invited back for a second audition – now with only 10 girls. Geri was there too, even though she had skipped the initial audition after getting sunburnt in Spain. "She just said she was ill and pleaded to be fast-tracked to the recall," Victoria later recalled.
All four were selected to form the band alongside 17-year-old Michelle Stephenson – "the sort of girl you can imagine in a Flake advert", said Victoria – who had received the highest scores at the audition.
The quintet moved in to a house in Maidenhead, where they received dance and vocal coaching, but it soon became clear Michelle didn't fit in.
Eventually, Michelle was replaced by Emma Bunton – a former stage school pupil who had been recommended by their vocal tutor, Pepi Lemer.
"Of course I regret I'm not a multi-millionaire like them," Michelle later told The Mirror. "But at the time I left the group I knew I was doing the right thing. It wasn't my kind of music and they were not living the lifestyle I wanted."
B is for Break-ins and Blow-up dolls
After months of rehearsals, the five girls grew disillusioned with Bob and Chris Herbert, and decided to extricate themselves.
They hadn't signed a contract – but their managers did have the master recording of their songs Wannabe and 2 Become 1. So Geri hatched a plan to retrieve the recordings and make off with them.
"I don't know how she actually managed to get it – everything was so Bonnie and Clyde," says Victoria in her autobiography, Learning To Fly. "She had it hidden in her knickers, she said, in case Bob and Chris had given chase."
Working from the back of Geri's beaten-up Fiat Uno, the band started building a new team, eventually signing with Annie Lennox's manager Simon Fuller. He immediately put them in the studio, and started introducing them to record labels.
"I'll never forget the day they burst in here," Virgin Records deputy director Ashley Newton told Music Week in the first-ever profile of the Spice Girls. "They caused such a commotion, doing a mad routine in the office, all talking at once and being really funny."
He called his bosses and told them: "You have to see this."
On the day they were due to sign to the label, the band sent five Ann Summers blow-up dolls in their place, with a chauffeur instructed to announce that the Spice Girls had arrived.
"There were almost heart attacks," Geri claimed.
"If Virgin didn't know who yet they were dealing with, they did now," added Victoria.
Later, after they actually turned up and signed their contracts, the band threw the dolls into the Grand Union Canal, where they bobbed about for days.
C is for Charts
Although Virgin was sceptical of Wannabe's potential, it was an instant smash, selling 73,000 copies in its first week.
Hoping it would go to number one, the band crowded around a radio on a picnic rug in Geri's sister's garden, champagne at the ready, as the countdown was revealed.
But their hopes were dashed: Wannabe entered the charts at number three, held at bay Gary Barlow's Forever Love (his first solo number one) and the Fugees' Killing Me Softly.
However, the following week it climbed to the top spot, becoming the first of six consecutive number ones for the band.
D is for Demo tape
The original demo for Wannabe is being released to mark the song's 25th anniversary – and its very different experience to the final version, full of record scratches, clunky 1990s synths and a bizarre breakbeat outro.
The song was something of a Frankenstein's monster, co-writer Matt Rowe told David Sinclair for his 2004 Spice Girls biography.
"They made all these different bits up," Rowe said. "Not thinking in terms of chorus, bridge or what was going to go where – just coming up with all these sections of chanting and rapping and singing. And then we just sewed it together. Kind of a cut-and-paste method."
Virgin, noting the popularity of girl bands like Eternal and TLC, were keen to give the song an R&B makeover and sent it to US producer Dave Way to be remixed. The result, according to Halliwell, "was bloody awful".
Eventually, Mark "Spike" Stent – a producer who had worked with Massive Attack and Madonna – was called in to knock the song into shape.
"The problem was that the vocal balance hadn't been quite sussed," he told Sound On Sound magazine in 1999. "It's a very quirky pop record, and there's not a lot going on with it, and my work was all about getting the vocals to sound right. It was quite tough to do, even though it only took six hours."
E is for Equality
The Spice Girls have always had a loyal LGBTQ following, and even changed the lyrics to one of their biggest hits to recognise their support.
The original version of 2 Become 1, as featured on their debut album Spice, contains the lyric: "Any deal that we endeavour / Boys and girls feel good together".
But by the time it came out as a single in December 1996, the line had been changed to: "Once again if we endeavour/Love will bring us back together".
In an interview with Gay Times, Emma Bunton said the alteration was in recognition of their LGBTQ fans.
"We changed the lyrics in a hotel," she recalled. "We were travelling and we were like, 'Absolutely, it needs to be changed.' We felt like it needed to be more inclusive."
F is for First impressions
The Spice Girls were the prototypical manufactured band – and when they were first put together, they couldn't help sizing each other up.
"I thought Emma was a softie, Vicky was a snob and Geri was a real loudmouth," wrote Mel B in the band's 1997 book Girl Power.
Emma, Victoria and Mel C all declared Geri a "complete nutter", recalling: "She had her hair in bunches and was wearing a pink fluffy jumper and saying, 'Look, look – I'm a duck!'"
Geri, meanwhile, "couldn't stop staring at Emma – she was really fresh and pretty with a big smile like a doll's".
G is for Girl Power
Girl Power came in for a lot of stick – mostly from critics who weren't girls and didn't need any more power, music writer Tom Ewing observed.
Geri was the one who pushed the concept, and even developed a "power oath" to be recited when events demanded: "I, being of sound mind and new Wonderbra do solemnly promise to cheer and dance and zig-a-zig-ah. Ariba! Girl Power!"
But even if the parameters were a little hazy, the idea was potent. The Spice Girls stood for freedom, self-belief and disobedience – and they inspired generations to stick up for themselves.
In 2017, Geri reflected on the legacy of Girl Power in a interview: "Twenty years ago, if you said the word feminism, you thought of those bra-burning, marching protestors. It was quite tough and harsh.
"For me, Girl Power was a much more punchy way of saying it. But actually, Girl Power embodies much more than a gender. It's about everybody. Everybody deserves the same treatment, whatever race you are, gender you are, age you are.
"It was just saying that in a very digestible way."
H is for Homesickness
As the Spice Girls became a global phenomenon, they were whisked away from their friends and family for months at a time. For tax reasons, they even spent 1998 living outside the UK, which exacerbated their feelings of isolation.
"I cry every day because I want to go home," wrote Victoria in the 1998 book Forever Spice.
"I called home the other day and my mum said, 'Your sister has just come in with the baby!' I could hear baby noises and… EastEnders on the TV in the background and then my dad came in from the chip shop with everybody's dinner. I was here on my own.
"OK, we're famous and we're doing what we enjoy but all I was thinking at that time was, 'God I miss my family and home!' I miss seeing the windows all steamy when my mum has burnt the dinner and there's a chair wedging the door open so that the fire alarm doesn't go off.
"I have been strong for a long time and you always think to yourself, come on, let's be strong, move on. But I don't want to be strong any more. I just want to sit down and cry… and have someone stand in front of me with their shield and say, 'I'll protect you'."
I is for Istanbul
The Spice Girls performed their first ever concert at an 8,000-capacity basketball arena in Istanbul, Turkey, on 12 October 1997.
Why Turkey? One popular theory said they had chosen it to get as far away from the UK as possible, afraid the British press would savage their stage debut. But the reality was more prosaic. Pepsi was sponsoring the tour, and they insisted on launching it in a country where Pepsi outsold Coca-Cola.
The soft drink deal was hammered home at a press conference the day before the show. "Posh, will you marry David Beckham?" asked one reporter. "That's none of your business," she replied. "But he drinks Pepsi."
The concert itself was "the sort of pop show they don't do any more", said The Guardian, full of pyrotechnics, slick choreography, and even a miniature roller coaster. And yes, the review added, "they really sang".
The Sun was more cautious, calling the gig "competent and capable" with "plenty of room for improvement".
J is for Journalists in Jeopardy
Part of the Spice Girls' appeal was their absolute refusal to play along with the media. Interviewing the band was like being dragged into a Top Shop dressing room by a hen party on its third day. They suffered no fools, and took no prisoners.
"They weren't star-struck. They brought everyone around them to their level," their PR Nicki Chapman once said.
For example: When the Spices announced their first reunion tour in 2007, one hapless journalist asked if the band were "unfit to do the dance routines" after having children.
"You don't look very fit yourself," shouted Mel B, before climbing off the stage and unbuttoning his shirt to check for a six-pack.
But the absolute gold standard, wheels-falling-off-and-car-crashing-into-a-ditch Spice Girls interview was conducted by Jamie Theakston in 1997.
"Come on, pretty boy," goaded Mel B as the cameras rolled, and it only went downhill from there. Luckily, someone's put it on YouTube.
K is for Kim Fuller
Kim Fuller was a sketch writer with credits on Not The Nine O'Clock News, Spitting Image and The Tracey Ullman Show. He was also the brother of the Spice Girls' manager Simon – which is how he ended up writing a script for the band's first (and so far only) feature film, Spice World: The Movie.
"The girls were being courted in Hollywood at the time, and they were offered a deal by Disney to do a film," he told Vice in 2018. "It was a bit Disney-fied. I think it was about a young single mother of one of the girls, fighting hardship to form the band."
The girls hated the idea, so Kim asked if he could have a shot.
The story, such as it is, involves the band preparing for a concert, while dealing with unscrupulous journalists, space aliens and bomb on a bus (that mysteriously vanishes). Critically mauled, it earned the stars five worst actress awards at the 1998 Golden Raspberries – but it made back its £4m budget 14 times over.
"The problem was that some of the toffee-nosed pricks that write the reviews are so totally up their own bums they couldn't see it was a total spoof from beginning to end," Victoria later opined in her autobiography. "We set out to make a fun movie, kitsch, camp and a lorra lorra laughs. Frankly, I think we did."
L is for Licensing
Pop stars were often cautious about sponsorship deals. But the Spice Girls had no such qualms.
In the first two years of their career, they put their names to more than 100 products including Walker's crisps, Polaroid cameras, Benetton, Fabergé, Chupa Chups lollipops, Asda supermarkets, BT phonecards (ask your mum), Cadbury's chocolate and even Impulse body spray (lavender and vanilla scented for Baby Spice; paduk wood for poor old Scary Spice.)
They made a reported £500,000 for recording an advertising jingle for Channel 5 and had their own ranges of pyjamas, beach towels, dolls, playing cards, bean bags, sponge cakes, beach towels and businessmen's ties.
Modern pop artists, starved of income by the economics of streaming, often subsidise their careers by following the Spice Girls' example – but for Simon Fuller, it wasn't about the money.
"The sponsorship deals were far more about exposure than the money," he explained. "My thinking was if we can get Pepsi to spend $40m basically running what was a commercial for my group, then Hallelujah!"
M is for Mental arithmetic
In Say You'll Be There, Geri sings: "If you put two and two together you'll see what our friendship is for."
Victoria later recalled: "I immediately saw the 2+2=4 pun in that and tried to explain it to the others, but they didn't get it at first. They're no good at maths."
N is for Nicknames
Famously, the band's nicknames – Scary, Sporty, Baby, Posh and Ginger – were bestowed by Top of the Pops magazine.
"The names jumped out at us," editor Peter Lorraine later recalled. "Posh was the first one to be thought up because Victoria looks pretty sophisticated. The rest were pretty easy really because the girls' characters were already really strong.
"We laughed the most when we came up with Scary. Jennifer Cawthron, who was also from Leeds, came up with that one because Mel B was so loud and had tried to take over our whole photo shoot."
By 1997, the band were already coming up with replacements. Mel B thought she should be Abrupt Spice, Emma wanted to be Gets-Away-With-Murder Spice and Victoria suggested Posh-half-the-time Spice.
In private, though, Geri called Mel B The Ox "because I could operate perfectly on the most outrageous hangover – or even do a full performance faultlessly after several bottles of champagne – while she would be throwing up in the loo."
O is for Olympics
The last time all five Spice Girls performed together was at the closing ceremony of the London Olympic Games in 2012.
The band emerged from, then stood astride, five London black cabs, as they played Wannabe and Spice Up Your Life to rapturous applause.
According to Mel C, they had rehearsed the performance for a week and a half but were still absolutely petrified.
Victoria even had a panic attack inside one of the taxis and almost refused to come out. "I felt so sick, I was falling to pieces," she told Heart Radio after coming off stage. "But Emma was so amazing – if it wasn't for her I would not have gone out there. That's how you know a real friend."
"The routine was quite technical, which added an element of danger," Mel C later told Mail online. "But there was a huge roar as we entered the Olympic Stadium, and that gave us an extra boost of adrenaline.
"We're not known for being particularly slick. In fact, shambolic is more like it. But it went perfectly."
P is for Pregnant on tour
The Spice Girls' 1998 world tour saw them play to 2.1 million fans over 97 shows, making $60m (£43.5m) in the US alone.
In the midst of it all, both Melanie B and Victoria Beckham became pregnant – and went to great lengths to hide it from their crew and fans.
"When Victoria and I were first pregnant, every so often we'd have to ask someone to let our costumes out. Nobody knew why and we'd have to say, 'We're just getting fat'," Mel B disclosed in the tour retrospective, Forever Spice.
"For ages, the dressers thought I was just putting on weight. Then it got ridiculous because I'd have to have a plastic cup in my room to wee in. I needed to wee three or four times during the show and the toilets were miles away."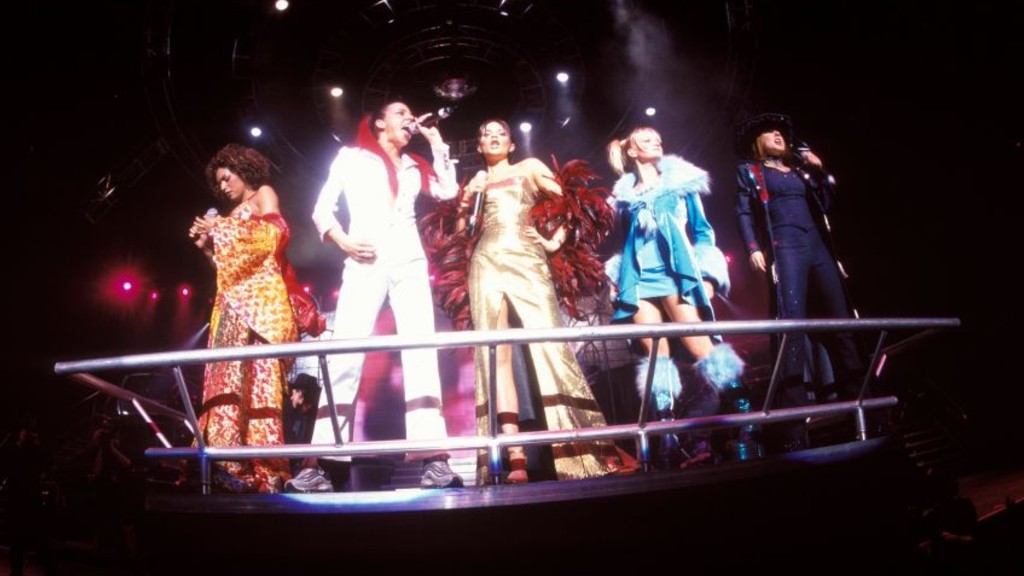 Getty
Spiceworld Tour 1998
Highest-earning tour ever by a female band
97

dates in eight months

2.1m

fans attended (estimated)

300

costumes

124

microphones

800

suitcases

900 lbs

of sweets
Source: / Spiceworld tour programme
Q is for Quitting
Half-way through the Spice World tour, on Mel B's birthday, Geri Halliwell unexpectedly quit the Spice Girls.
Officially, the explanation was that she was suffering from exhaustion. But in her autobiography If Only, the singer said she'd been frustrated that the band had prevented her from giving a TV interview about surviving breast cancer in her teens.
"I couldn't believe it. This was about saving lives," she wrote. "I knew then it was over with the band. Ginger Spice was no more."
"It was quite hard," Emma Bunton recalled in Forever Spice. "We'd done a lot of shows in Europe but we were really quite nervous about [touring] America, so it was a bit of a kick in the teeth, really."
"Missing Geri is like missing your mum," reckoned Mel C. "You miss her, but not her nagging."
And for Victoria, "there was one big plus – for the first time ever, I got to sing on Wannabe".
Relationships were strained for several years, but the band eventually kissed and made up. Geri even apologised for quitting on the final date of the band's 2019 reunion tour.
"I'm sorry," she said. "I'm sorry I left. I was just being a brat. It is so good to be back with the girls that I love."
R is for Royalty
According to a definitely-not-made-up story in The Sun in 1996, a teenage Prince William was so besotted with the Spice Girls that he tore down his Pamela Anderson poster and replaced it with one of Emma Bunton. He later popped into the Windsor branch of Our Price and bought a copy of their debut album using a bank note with his grandmother's face on it.
When Emma asked after William at a Prince's Trust gig later, Prince Charles reportedly quipped: "Don't be a cradle snatcher."
It was at that same show where Geri reportedly squeezed the buttocks of the future King of England.
"I pinch everyone's bottom. Why am I going to stop at the prince?" she reckoned.
"I think he quite enjoyed it," added Mel C. "So we didn't really get in trouble."
S is for Surprise, Surprise
In the beginning, UK radio stations refused to play the Spice Girls' music – but TV loved them.
Their first appearance came on an episode of Cilla Black's Surprise Surprise, a booking they secured by "cornering the show's producer in a toilet and zapping her with an a capella version of Wannabe," Victoria later recalled.
They were folded into a segment where a teenage girl called Sally had won the opportunity to present a show on Manchester radio station, Key 103, and interview a famous band.
She managed to hide her disappointment that it wasn't Boyzone.
T is for Thatcher, Margaret
Current affairs magazine The Spectator was the least likely place to find the Spice Girls in 1996, but when Simon Sebag Montefiore bagged an interview with the quintet, he certainly got his money's worth.
After declaring "we need more women MPs", Geri opined that former PM Margaret Thatcher "was the first Spice Girl, the pioneer of our ideology".
"I like the woman," added Mel B. "Even if her policies were hard-headed… but her legacy was a mixture."
It made headlines everywhere. "Pierced-nosed pop group adds spice to the Tories," wrote the Times. "Meet John Major's last hope," sneered The Guardian.
Ever the diplomat, Geri later walked back her comments. "When I said Margaret Thatcher was the first Spice Girl, I wasn't claiming I was a real Tory. I just admire people with ideals," she wrote in the official Spice Girls book, Girl Power.
"Even if it's not my point of view, I respect the fact that it takes dedication and guts to stand up and say what you believe in."
U is for Union jack dress
Dominating the front pages after the 1997 Brit Awards, Geri's most iconic outfit was originally supposed to be a simple black cocktail dress.
"Two nights before, Geri said, 'You know what, Emma, I'm really not comfortable with the dress I'm wearing, I've got a much better idea,'" recalled her stylist Emma Poole in 2017. "I'm going around to my sister's, she's got these great Union jack tea-towels, I'm going to make a dress'".
"I thought, 'Please, please don't, no.' And Geri was like,'No, I am going to do that'."
The star sold the outfit – which had a CND flag on the back – in 1998 to raise money for breast cancer charities. It raised £41,320, making it the most expensive item of pop star clothing ever sold at auction, until Michael Jackson's sequinned glove was sold in 2009.
V is for Viva Forever
No, not the short-lived Spice Girls musical (the less said about that the better) but the band's eighth single, and the first to be released after Geri left.
The stop-motion video, created by Aardman Animation, had been commissioned five months earlier but its message was eerily prescient.
"The sadness of the song is leaving your childhood behind," director Steve Box told Crack magazine.
"I came up with this idea for the girls to be tin toy fairies that were like lost toys, which was a little bit of a comment on that modern pop: you buy it, you put your money in, you get your music and then shortly afterwards it will disappear."
W is for Wood, Victoria Adams
In early press material for the Spice Girls, Posh Spice is referred to as Victoria Adams Wood – a reference to her first fiancé, a burglar alarm fitter named Mark Wood.
The couple dated for six years, and Mark popped the question in 1994, just after her Spice Girls audition. The other girls quickly helped her realise "it was all a mistake".
Eventually, she decided the girls were right and they split up the day after her 21st birthday.
"But I didn't give him the ring back," she told the Big Breakfast's Denise Van Outen. "I've still got it because it was a wicked ring."
Two years later, she met David Beckham, they had their first date in Mel C's flat, and the rest is history.
X is for King's X
The video for Wannabe was supposed to be filmed in Barcelona, but when planning permission fell through the group decamped to the then-unused Midland Grand Hotel in London's King's Cross.
"The idea for the video was to recreate the same energy and dynamism that we showed when we crashed into record companies and did the frenetic hard sell," Geri later wrote. "We invaded places and left people breathless. We had to bounce through the place singing Wannabe and sweeping away the cobwebs."
The all-night shoot was freezing cold. If you look closely, you can see the band's breath turning into condensation when they sing. The temperature had other effects too – the video was banned in some Asian countries because of the prominence of Brown's nipples.
Virgin asked for it to be re-shot… but the band refused on the logic that they'd already spent £130,000 and "you can buy a house for that money".
Y is for Youth, marketing to
The Spice Girls' cartoonish personas and instantly-catchy singles attracted a broad coalition of fans, notably children, who the music industry had previously considered a small market.
In the following years, pre-teen pop became a major sub-genre of music – with acts like B*Witched, Aqua, Billie Piper and Simon Fuller's post-Spice project S Club 7 topping the charts.
TV shows like Fireman Sam and Teletubbies suddenly found themselves in the top 10 too. And by 2006, Disney had cashed in on the trend with High School Musical – which essentially means the Spice Girls are responsible for Olivia Rodrigo.
Z is for Zig-A-Zig-Ah
It's all Mel B really, really wants to do… but what does it mean?
Well, if you listen to the words of Wannabe, the point is that you'll only ever find out if you're admitted to the Spice Girls' inner circle. Prove your friendship, the song says, and maybe we'll share our secrets.
Mel C confirmed as much in an interview with Billboard. "You know when you're in a gang and you're having a laugh and you make up silly words?" she said. "Well, we were having a giggle and we made up this silly word, zig-a-zig-ah. And we were in the studio and it all came together in this song."